Inspectors for Peace: A History of the International Atomic Energy Agency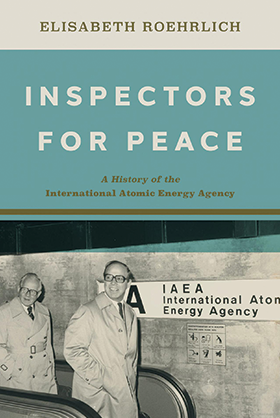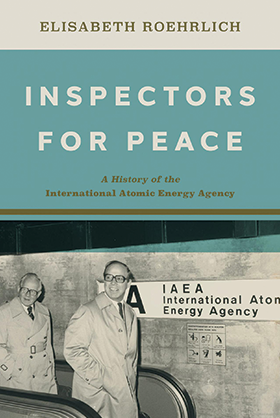 The first comprehensive, empirically grounded, and independent study of the history of the IAEA.
The International Atomic Energy Agency, which sends inspectors around the world to prevent states from secretly developing nuclear bombs, has one of the most important jobs in international security. At the same time, the IAEA is a global hub for the exchange of nuclear science and technology for peaceful purposes. Yet spreading nuclear materials and know-how around the world bears the unwanted risk of helping what the agency aims to halt: the emergence of new nuclear weapon states. In Inspectors for Peace, Elisabeth Roehrlich unravels the IAEA's paradoxical mission of sharing nuclear knowledge and technology while seeking to deter nuclear weapon programs.
Founded in 1957 in an act of unprecedented cooperation between the Cold War superpowers, the agency developed from a small technical bureaucracy in war-torn Vienna to a key organization in the global nuclear order. Roehrlich argues that the IAEA's dual mandate, though apparently contradictory, was pivotal in ensuring the organization's legitimacy, acceptance, and success. For its first decade of existence, the IAEA was primarily a scientific and technical organization; it was not until the Treaty on the Non-Proliferation of Nuclear Weapons entered into force in 1970 that the agency took on the far-reaching verification and inspection role for which it is now most widely known. While the Fukushima nuclear disaster and the Iran negotiations made the IAEA's name famous, the organization's remarkable history remains strikingly absent from public knowledge.
Drawing on extensive archival research, including firsthand access to newly opened records at the IAEA Archives in Vienna, Inspectors for Peace provides the first comprehensive, empirically grounded, and independent study on the history of the IAEA. Roehrlich also interviewed leading policymakers and officials, including Hans Blix and Nobel Peace laureate Mohamed ElBaradei, the agency's former heads. This book offers insight not only for students, scholars, and policy experts but for anyone interested in the history of the nuclear age, the Cold War, and the role of international organizations in shaping our world.
About the Author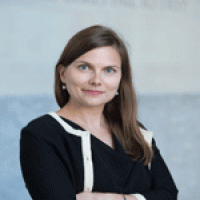 Elisabeth Roehrlich
Global Fellow;
Project Director and Senior Fellow, Department of Contemporary History, University of Vienna, Austria
Read More
---
History and Public Policy Program
The History and Public Policy Program makes public the primary source record of 20th and 21st century international history from repositories around the world, facilitates scholarship based on those records, and uses these materials to provide context for classroom, public, and policy debates on global affairs. Read more