Wilson Center Experts React to President Biden's State of the Union
Experts from the Wilson Center offer their analysis of President Biden's first State of the Union address.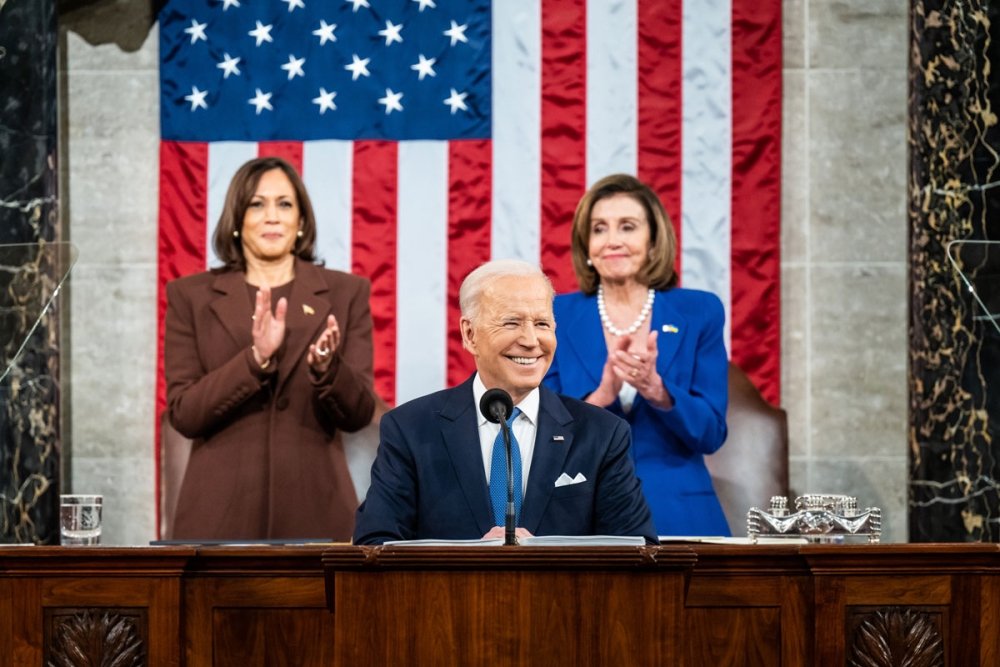 Lauren Herzer Risi, Environmental Change and Security Program
The State of our Union rests on the state of our climate.

President Biden delivered his first State of the Union speech tonight, laying out his plan to fight inflation and build a better America—it's a plan that relies on US ingenuity, investment, and manufacturing. "Make more cars and semiconductors in America. More infrastructure and innovation in America. More goods moving faster and cheaper in America. More jobs where you can earn a good living in America. Instead of relying on foreign supply chains – let's make it in America."

However, the state of our Union rests on the state of our climate. And according to the most recent International Panel on Climate Change report, released this week, our climate is in crisis. In fact, the 270 expert authors end the report on a dire note: "Any further delay in concerted anticipatory global action on adaptation and mitigation will miss a brief and rapidly closing window of opportunity to secure a liveable and sustainable future for all." President Biden ended his speech with a call for unity, stating that the American people are stronger today than a year ago and will be more potent yet a year from now. But let's not forget that the fate of America is woven into the fate of our planet, and the strength of our country—our health, our economy, and our security—will ultimately be determined by how effectively countries unite to combat climate change. Events over the last week have illustrated how quickly much of the world can be mobilized against a common threat and the importance of US leadership—now is the time to apply that leadership to tackling climate change.   
Donna A. Patterson, Fellow, Professor, Department of History, Political Science, and Philosophy, Delaware State University
The State of COVID and Healthcare

As expected, President Biden made new announcements regarding the impact of COVID-19 on citizens' lives and some new recommendations for pandemic response. This four-track list of interventions includes 1) continued White House emphasis on vaccines and other bio-medical treatments 2) Preparations for new variants by scaling up pharmaceutical preparation and response time 3) "end the shutdown of schools and business" 4) continued global vaccination donations.

The president also gave some examples of new initiatives including testing and treating for COVID-19 at pharmacies—"test to treat". One benefit of this imitative is to streamline downtime in visiting physicians or hospitals for the treatment of non-critical COVID-19 infections. However, this would require additional resources for pharmacies and reduce transmission between customers and healthcare providers treating them in a non-clinical environment. 

In another case, per point #3, yes, kids benefit greatly from attending in school in-person. At the same time, schools need to be safe spaces where the risk of COVID-19 transmissions is mitigated through public health measures such as regular and widespread testing, good ventilation and good contact tracing. I also highly recommend school masking as a non-invasive way to protect children, staff, and educators. Even as the CDC has recently recommended reducing the use of face masks, I do hope that school administrators and parents take into consideration their students, communities, and respond to the rise in future variants. Young children in kindergarten and preschool do not yet have access to vaccines. Vaccination rates for those 5-11 are fairly low in much of the country and new studies show that vaccine coverage is waning quite quickly in those ages 5-11. 

Overall, I was pleased to see this emphasis on public health in this State of the Union address. I am certainly interested in learning more about the nuts and bolts of some of these policies and I also have lots of ideas about some of the steps forward. 
Shihoko Goto, Acting Director, Asia Program and Deputy Director for Geoeconomics
The State of Trade and Foreign Investments

Reshoring advanced technology back to the United States and investing in infrastructure were two of President Biden's key pillars to promote U.S. economic competitiveness. But a glaring hole in Biden's upbeat vision to bolster U.S. growth was a commitment to free trade and opening America's doors to foreign investments. The lack of appetite for trade and a singular focus on boosting U.S. domestic capabilities rather than depending on imports will alarm U.S. partners in the Indo-Pacific in particular.

The State of the Union speech reinforced concerns that while the Biden administration talks about the need to partner with like-minded nations to promote open markets in the Indo-Pacific and beyond, the appetite to pursue a multilateral approach to establish new rules of economic engagement in the region remains weak. If the State of the Union is an indicator of what to expect in the upcoming White House Indo-Pacific Economic Strategy, then it is unlikely that Washington will view building up trade relations as a key part of driving the U.S. economic engine forward.
Sue Mi Terry, Director of the Hyundai Motor-Korea Foundation Center for Korean History and Public Policy
North Korea

North Korea, so often the focus of U.S. policymakers in the past, wasn't mentioned once during President Biden's State of the Union Address even though it conducted its 8th missile launch this year since the start of the Russian invasion of Ukraine. South Korea came up only once and briefly, in a list of countries that are imposing sanctions on Russia for its invasion of Ukraine. (North Korea is one of the few countries in the world defending the Russian invasion.)

The speech likely confirmed what is obvious to both Koreas: that the administration is preoccupied with the Russian attack and doesn't have the bandwidth to deal with "lesser" crises, including the North Korean nuclear issue. The North was already bent on expanding its nuclear program and diversifying its missile arsenal in order to evade and defeat U.S. missile defenses. The perceived lack of focus on North Korea by the Biden administration will only reinforce this decision on Kim's part; the North is highly likely to engage in further tests and provocations in the coming weeks, particularly to test the new president of South Korea. North Korea might even be emboldened to stage another long-range ballistic missile or nuclear test. Like other rogue states around the world, North Korea is likely to take advantage of the U.S. focus on Russia to act up in their own neighborhood.