Ukraine's Canadian Ally: "Frida"
Chrystia Freeland has worn many hats throughout her life: student of Russian history, financial journalist, published author, Minister of International Trade, Minister of Foreign Affairs and now, Minister of Finance and Canada's Deputy Prime Minister. To most, Freeland is best known for her accomplishments in the negotiations of renewed trade agreements for Canada and has been tipped as the potential successor to Prime Minister Trudeau.[1] But "Frida"- the codename issued by Russian intelligence to Freeland while she was a student and activist in the 1980s- is also well-known amongst the Russian KGB and former KGB spymaster Vladimir Putin, by whom she is not so highly regarded.[2]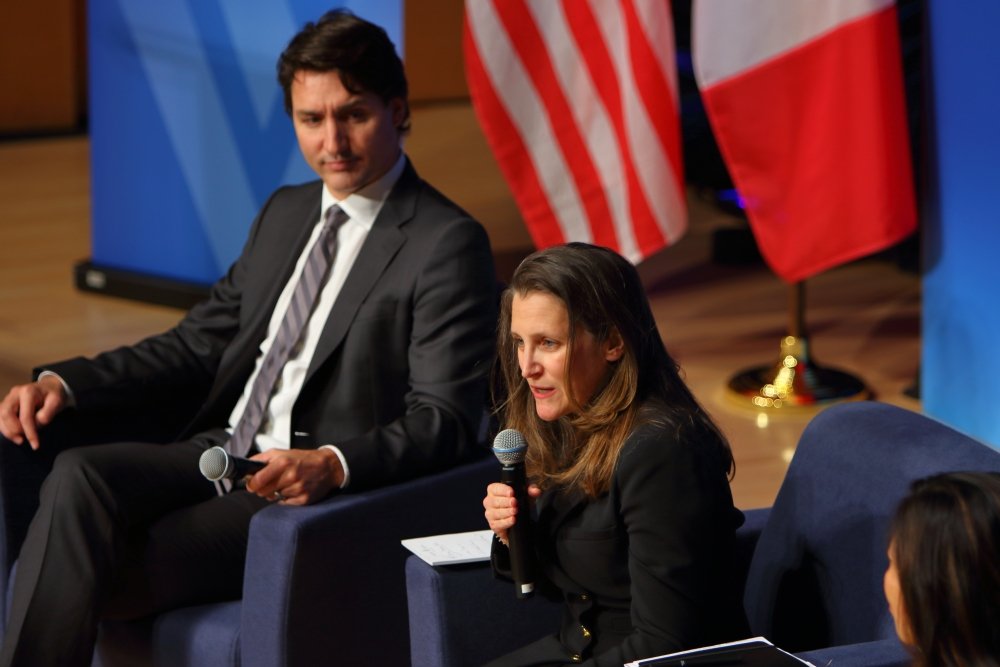 Despite Freeland's well established international reputation, in 2014 the Alberta-born politician found herself added to the Kremlin's list of unwelcome visitors. Moscow has always exercised its gatekeeping abilities through territorial and border control, but how did a Canadian civil servant come to be banned from entering Russia? [3] The 2014 no-entry list was generated in response to sanctions imposed by both Canada and the United States after Russia's illegal annexation of Crimea. Although the list possessed symbolic implications, reminding the international community of Russia's willingness to respond and reject the West, Freeland's name is of particular distinction. Her presence on that list was intentional– a decision rooted deeply in Freeland's family history and her recent past. 
As Ukrainian citizens have been forcibly displaced by Russia's 2022 invasion, Freeland no doubt has reflected on her own family's departure from Ukraine after the enactment of the Soviet-Nazi non-aggression pact. Unbeknownst to many, Freeland's maternal grandparents emigrated from Ukraine to Alberta in 1939. Freeland's mother, Halyna Chomiak Freeland, would eventually return to Ukraine, helping found the Ukrainian Legal Foundation and applying her skills as a Canadian-trained lawyer to the Ukrainian independence movement. [4] Throughout her writing, Chrystia Freeland has described her grandparents as "political exiles with a responsibility to keep alive the idea of an independent Ukraine."[4] Perhaps inspired by their commitment to the fierce preservation of Ukrainian culture, Halyna Chomiak Freeland raised Chrystia to speak both English and Ukrainian. In turn, Freeland has done the same with her own children, preserving the linguistic legacy of her family heritage [4]. 
Freeland's defense of Ukrainian sovereignty is spurred by more than a desire to protect her grandparents' legacy. As an undergraduate at Harvard University, Freeland spent a semester abroad in Ukraine, advocating for political and social reform under the Soviet puppet state. As a pro-democracy agitator from 1988-1989, Freeland posed an acute threat to Soviet political order, a threat noted by the KGB. While in Ukraine, the KGB "tailed [Freeland] wherever she went; tapped her phone calls to Ukrainians abroad; bugged her accommodation; read her mail; and had an informer, codenamed Slav, insert himself into Ms. Freeland's circle." Her intellect and career trajectory quickly caught the attention of the KGB, who ultimately assigned her the code name "Frida."[2]
Although the code name's rationale remains unknown, the phonetic and ideological similarities between Freeland and Frida Kahlo may have inspired its coinage. Frida Kahlo, the infamous Mexican social justice artist, frequently defied the demands of those in power. Freeland's work in Ukraine also embodied similar values of resistance and opposition to violence. However, the comparison may also have possessed a hint of irony: Kahlo, a pro-communist advocate, seems to contrast much of Freeland's resistance to the USSR. 
Despite her complex family history, Chrystia Freeland is a Russian-speaking, self-described Russophile.[4] As a Russian studies expert and well-established journalist, Freeland served as the Moscow bureau chief of the Financial Times. In 2000, Freeland even interviewed Putin: conducting an early character analysis in which she described Putin as a "cuddly, cooing president" learning how to navigate political culture.[5] Freeland's 2000 piece is hauntingly ironic to read in retrospect: discussing Putin's seeming-admiration for environmental activists, musing for life after his eight-year term comes to an end (he has held some form of political power for 22 years), and his use of Russo-Canadian Hockey statistics as political leverage. However, Freeland wonders if after "​​Putin's first year in office,...the Russian president understand[s] where a strong state ends and a dictatorship begins?"[5] It's a question we can answer now. 
Her tone towards the Kremlin has changed considerably since authoring that piece. In recent years, Freeland has spoken out repeatedly against the Russian President, condemning his use of state violence and military offensives in Crimea. With the most recent Ukrainian invasion, Minister Freeland has reasserted her hard stance against Putin, declaring on Twitter that "Russia's actions are a violation of international law and of the rules-based international order," emphasizing that Canada has "a clear and present stake in this conflict."[6] She's right to claim that Canada has a stake in the conflict. 1.3 million Canadians are of Ukrainian descent-- a significant population of Canada's approximately 37 million. Many Canadian-Ukrainians are descendants of immigrants who left Ukraine under similar duress that forced Freeland's grandparents to the prairies in 1939. 
While Chrystia Freeland may eventually adopt more responsibilities if she secures Liberal leadership, she has been called to a far more urgent duty as the Russian invasion of Ukraine continues. In her official remarks, Chrystia Freeland warned that "history will judge President Putin as harshly as the world condemns him today."[7] If Minister Freeland does step into the shoes of Justin Trudeau, the Kremlin would likely face international pressure to reassess banning a Head of Government from its territory. However, it's unclear how Moscow would respond to such demands given their blatant disregard for international norms. 
Freeland is uniquely positioned as a Ukrainian-Canadian to provide a voice for her community as the conflict continues, a platform that she has already shown a willingness to utilize. From her time in Ukraine as a student to her work as Deputy Prime Minister, Freeland continues to assert prove her commitment to human rights protections. The nickname "Frida" may have been more than a tongue-and-cheek play on Frida Kahlo's communist musings. It's possible, even if unlikely, that the nickname was a subversive ode to her daring work for freedom in Ukraine. The German word Frieda or Freda (phonetically pronounced in English as "Frida"), translates to peace and peaceful. Freeland, a pro-democracy agitator, a champion of women's rights, and a fierce advocate for humanitarian work, is deserving of such a title. Is her code name a veiled marker of support for her work? Perhaps, a recognition that Freeland sought peace? We may never know. But regardless of the term's origin, "Frida's" leadership in the 2022 Ukrainian crisis has shown that Freeland is not afraid to stand in solidarity with her fellow Ukrainians; proving now just as she did in 1989 that she is willing to risk the wrath of the Kremlin in advocating for peace.
---
---
Canada Institute
Bound by common geopolitical interests and strong economic and cultural ties, Canada and the United States enjoy the world's most successful bilateral relationship. The Wilson Center's Canada Institute is the only public policy forum in the world dedicated to the full spectrum of Canada-U.S. issues. The Canada Institute is a global leader for policymakers, academics and business leaders to engage in non-partisan, informed dialogue about the current and future state of the relationship.    Read more